Paintless Dent Repair near Flint, MI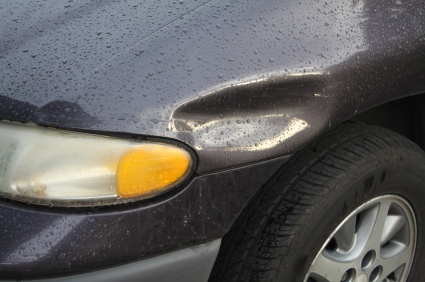 Body Shop Hours
810-654-2338
| | |
| --- | --- |
| Monday | 8:00 am - 7:00 pm |
| Tuesday | 8:00 am - 7:00 pm |
| Wednesday | 8:00 am - 7:00 pm |
| Thursday | 8:00 am - 7:00 pm |
| Friday | 8:00 am - 6:00 pm |
| Saturday | 8:00 am - 3:00 pm |
| Sunday | Closed |
Even the smallest of dents can create quite the eyesore on your driving option. We at Hank Graff Chevrolet are here to rid your vehicle from any and all blemishes when you stop by for our paintless dent repair! This way, you can take pride in your vehicle without feeling like you are drawing attention toward your unsightly damage. All that you have to do is swing by our Body Shop as soon as you get the chance! We have accommodating hours and look forward to getting you back on the road with confidence.
What Does a Paintless Dent Repair Entail?
When you stop by to participate in this simple service, you will be lining your pockets with some extra cash, because you won't be spending to receive a full paint job after we buff out the dent. This means that you can keep your original paint job without having to deal with the expenditures of paint matching. This way, you can get back on the road in an expedited manner without having to leave your ride in the shop all weekend. This also helps the environment because you won't be contributing to harmful toxins being released into the atmosphere that would normally occur with paint applications. Once you get your ride back, you won't even remember where that unpleasant dent was!
What Goes into a Dent Repair?
If you are curious of what goes into the entire procedure, we would be happy to get you up to speed so there isn't any gray area. Our team is led by the expertise of Rob Rehan, who is our esteemed PDR and Cleanup Manager and renowned expert! When you pull into our service bay, we will take a close peek and assess the damage. After that, we will let you know what our plan of action is moving forward, and get the process started! If we know that a paintless repair is possible, then we will move forward by gently pulling the dents from their impacted position and get things back to looking like-new. If a paintless repair isn't possible, we will notify you first, and then get ready to paint match so you don't leave with a multi-colored ride.
Getting Started!
We make getting the ball rolling a breeze once you tap into the handy tools that we have featured on our website. If you have any questions or concerns about what goes into the entire process, then you should definitely tap into our Ask a Tech form. This feature lets you get in touch with one of the experts in our Service Department right from your smartphone or laptop. Once we receive your inquiry, we will get back to you with a detailed answer as soon as possible. We also provide the opportunity to secure a time slot by using our Schedule Appointment form.
You can participate in our paintless dent repair near Flint, MI, today! All that you need to do is swing by Hank Graff Chevrolet as soon as you get the chance. You can find us at 800 North State Road in Davison, MI. We are the home of the Wow Factor, and have been in business for over 100 years!
Testimonials
Very happy with the help & service
Jean Shipley
1-2-2020
The BEST!
Erika Abdelhak
12-31-2019
That's what I call outstanding customer service!!
Lori Simpson
12-31-2019
Awesome Customer Service
Denise Skarritt
12-30-2019
We had a great experience
Frederick Roeder Jr
1-31-2019
Wonderful staff
Chris Woidan
1-28-2019
Very friendly staff great customer service
Roy Gilpin
1-26-2019
Very warm and friendly atmosphere
Kurt Jensen
1-15-2019
I could not be more pleased with my service
Andrea Mcglashen
1-14-2019
Super friendly staff!
Lucy Engle
1-12-2019
If your looking for an honest car salesman look no further
Corey Tate
1-2-2019
The Most Pleasant Experience
Ed Pavlis
12-4-2018
Experience the Equinox
mardon
11-20-2018
Customer Testimonials
Brett E.
11-9-2018
Friendly and Helpful
James
10-31-2018
Impressed
Andre
10-19-2018
Thank you
Derek
10-15-2018
Service
Reynaldo Reyes
Grand Blanc, MI
10-3-2018
Customer Review
antoinette
9-15-2018
Great service
Mary Lenzi
Davison, Michigan
8-29-2018
Read More