Hank Graff Chevrolet in Davison | Service Center
Hank Graff Chevrolet | Reliable Auto Service & Car Repair in Davison
Serving Flint, Grand Blanc, Lapeer and Burton, our Auto Service and Car Repair department is staffed with the most qualified technicians from the Flint, Grand Blanc, Lapeer and Burton area and are ready to answer your questions about car repair and address your auto service needs. Use our online form to schedule an appointment or contact our service department if you have any additional questions. Check out the Hank Graff Chevrolet auto service menu to get an idea of the auto services and prices we recommend to Flint, Grand Blanc, Lapeer and Burton area drivers.


Treat Your Vehicle Right with Auto Service from Hank Graff Chevrolet
You love your Chevy that you got from Hank Graff. We love that you love your Chevy. That's why we want to help you keep it running smoothly for miles of road to come. Whether you're looking to schedule regular service , or you need Chevy parts, our experienced Chevrolet service team is happy to give your car the TLC it deserves.
Why is maintenance so important to our customers in Davison, Flint, Grand Blanc, Lapeer and Burton? We know how important it is to be prepared for any challenge, to set a sensible budget, and of course, let our hair down and enjoy the freedom of the open road.

Regular auto maintenance will help you achieve all of these ideals. A poorly maintained car is an unreliable car. Letting problems go, like worn down tires, or a dying battery can lead to breakdowns. When your parts are all fresh you will be prepared for anything the road can throw at you, from a lengthy car trip, to your daily commute.

How can routine auto service save you money? By regularly inspecting your vehicle, we will catch little problems before they become major problems. By fixing an issue before it snowballs into something bigger, you can save thousands of dollars in repair costs. We can also tell you when a part will need to be replaced soon. When you know you'll need to invest in parts in the future, you can plan your budget around it.

Finally, a well-maintained vehicle is more fun to drive! We know you got a Chevrolet because you love the roar of an engine and the wind in your hair. When your oil needs changing, or your tires are unbalanced, your vehicle will be less efficient, less responsive, and just plain less enjoyable to drive.

We offer an unbeatable array of Chevy services and parts. Click our Service Menu to see our car services and prices. To schedule a service appointment, use our convenient online Schedule Service Form , or call us at (810) 653-4111.


Chevrolet Service Center Hours
Phone: (810) 653-4111.
Monday: 7:30AM-8:00PM
Tuesday-Friday: 7:30AM-6:00PM
Saturday: 8:00AM-1:00PM
Sunday: Closed
Chevrolet Service Center Oil Change Hours
Monday & Thursday: 7:30AM-8:00PM
Tuesday: 7:30AM-7:00PM
Wednesday & Friday: 7:30AM-6:00PM
Saturday: 8:00AM - 3:00PM
Sunday: Closed
Service Writers
Service
Jeff Fernandez
Service and Parts Director
810-654-2244
Kevin Lange
Service Manager
810-654-2244
Scott Vanalst
Service Consultant
810-654-2242
Kody Mayhew
Service Consultant
810-654-2243
Patrick Reed
Service Consultant
Jason Fee
Service Consultant
810-654-2241
Justin Price
Service Consultant
Vinnie Shoecraft
New Car Prep
Scott Gray
Greeter/Porter
Britnee Adkins
Drac Coordinator
Steve Johnston
Technician
Andy Shelton
Quick Service Tech
Jackie Schoen
Greeter/Porter
Cody VanWarmer
Lube Writer
Adam Dunton
Maintenance Manager
Ray Lindsay
Courtesy Driver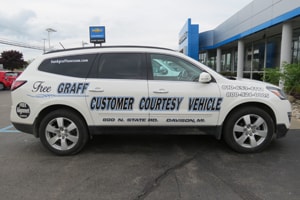 FREE Courtesy Vehicle
Large, Free-Flowing Service Bays
Sales Hours
810-653-4111
| | |
| --- | --- |
| Monday | 8:00 am - 7:00 pm |
| Tuesday | 8:00 am - 7:00 pm |
| Wednesday | 8:00 am - 7:00 pm |
| Thursday | 8:00 am - 7:00 pm |
| Friday | 8:00 am - 6:00 pm |
| Saturday | 8:00 am - 3:00 pm |
| Sunday | Closed |
Service Hours
810-653-4111
| | |
| --- | --- |
| Monday | 8:00 am - 7:00 pm |
| Tuesday | 8:00 am - 7:00 pm |
| Wednesday | 8:00 am - 7:00 pm |
| Thursday | 8:00 am - 7:00 pm |
| Friday | 8:00 am - 6:00 pm |
| Saturday | 8:00 am - 3:00 pm |
| Sunday | Closed |
Parts Hours
(810) 653-4111
| | |
| --- | --- |
| Monday | 8:00 am - 7:00 pm |
| Tuesday | 8:00 am - 7:00 pm |
| Wednesday | 8:00 am - 7:00 pm |
| Thursday | 8:00 am - 7:00 pm |
| Friday | 8:00 am - 6:00 pm |
| Saturday | 8:00 am - 3:00 pm |
| Sunday | Closed |
Body Shop Hours
810-654-2338
| | |
| --- | --- |
| Monday | 8:00 am - 7:00 pm |
| Tuesday | 8:00 am - 7:00 pm |
| Wednesday | 8:00 am - 7:00 pm |
| Thursday | 8:00 am - 7:00 pm |
| Friday | 8:00 am - 6:00 pm |
| Saturday | 8:00 am - 3:00 pm |
| Sunday | Closed |
Oil Change Hours
810-653-4111
| | |
| --- | --- |
| Monday | 8:00 am - 7:00 pm |
| Tuesday | 8:00 am - 7:00 pm |
| Wednesday | 8:00 am - 7:00 pm |
| Thursday | 8:00 am - 7:00 pm |
| Friday | 8:00 am - 6:00 pm |
| Saturday | 8:00 am - 3:00 pm |
| Sunday | Closed |